Jersey coastal industry 'damaged' by cold seas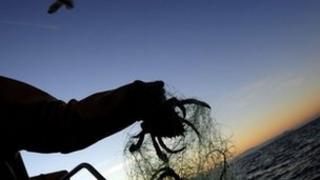 Unseasonably cold sea temperatures are damaging coastal businesses in Jersey, according to those in the industry.
Fishermen and surfer instructors have told the BBC they were unable to work as normal as the water was too cold.
In March the seas were 7.2 degrees, which is more than a degree colder than the usual monthly average.
Colder than normal sea temperatures have meant some species of fish have delayed returning to Jersey's inshore waters.
'Whole food chain'
Diver and researcher Kevin McIlwee has been surveying fish species for two years as part of project run by the Marine Conservation Society.
He said species he would normally expect to have returned, such as wrasse, pouting and spider crabs, have not appeared.
He said: "Normally what happens during the winter months is that a number of species go to deeper waters where the temperature is more consistent and then move in to shallow areas for breeding and feeding, but we are not observing a great deal of this at the moment.
"This will affect the whole food chain in the environment which will affect the commercial fisherman."
Jake Powell, from the Freedom Surf Shop in St Brelade, said the industry had been suffering because of the unusually cold weather.