Jersey abuse complaint: Churches to discuss dean's suspension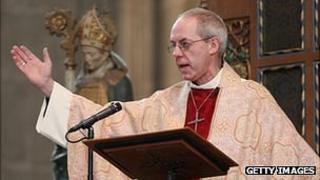 Jersey's Anglican churches are meeting to decide whether to back calls for the Archbishop of Canterbury to intervene in the suspension of the island's dean.
The Very Reverend Bob Key's commission was withdrawn after allegations he mishandled an abuse complaint.
Archbishop Justin Welby has already been asked to step in by some Anglicans and a senior Jersey politician.
The Jersey Deanery Synod, the governing body for the church, has called an emergency meeting on the issue.
Clergy and laymen from Jersey's 19 Anglican Churches have been invited to the gathering at St Brelade's Church Hall.
Concerns have been raised the relationship between Jersey churches and the UK has suffered and needs to be reconciled.
The archbishops' office has previously said Dr Welby would not get involved in what was an internal diocese matter.