Polls open for Jersey's government reform referendum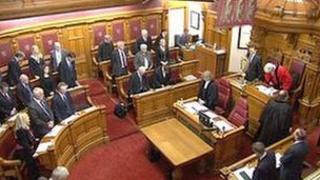 Polls have opened for Jersey's referendum on electoral reform.
The referendum asks islanders how many politicians they want in the States, how they will be elected and what the size of constituencies should be.
Polling stations in every parish electoral district will be open from 08:00 to 20:00 BST.
After nearly two days of debate, the States agreed the questions would include two options for change and one to maintain the status quo.
Option A will see 42 deputies elected from six large voting districts.
Option B will have 30 deputies elected from six districts and 12 parish constables.
Option C will maintain the status quo of eight senators elected island wide, 29 deputies in a range of constituency sizes and 12 parish constables.
Preference vote
In 2012 the States of Jersey set up an electoral commission to look at reforming the way politicians were elected and come up with referendum questions to be put to the public.
Voters must not use an 'X' to indicate their preference on the ballot paper, but put the number one next to their first choice and a number two next to their second choice, if they have one.
After the polls close, the votes will be counted at one central location in each parish, either the Parish, Public or Town Hall.
Jurats in each parish will announce the result at each parish count.
Once all 12 parishes have declared, the States Greffier Michael de la Haye, who will be based at the Town Hall in St Helier, will announce the how many first preference votes have been cast for each of the options across the island.
If one of the options gets more than 50% of the total valid votes cast, that option will win.
But if none of the options have more than 50%, the option with the least island-wide votes will be recounted using the second preference shown.
Not binding
Last week States members voted against setting a minimum turnout threshold for the results of the referendum to be considered.
At the last election in 2011 average turnout for the constable elections was 48.6%, for deputies it was 47.9% and 48.4% for the senators elections.
Political expert, Adrian Lee, said: "The interesting thing will be whether the opportunity for a referendum will in fact break the Jersey habit, as I would call it, of non voting.
"The last time a majority of Jersey's electorate voted in an election was 50.5% in the senatorial elections in 1978."
Whatever the outcome, the referendum will not be binding because it will be up to the States to decide if and how it reforms itself.
The referendum is only the second in the island's history.
The first referendum in 2008 asked if Jersey should move to Central European Time from GMT, and it was rejected by 17,230 votes to 6,564.