Condor Ferries looks to Guernsey and Jersey States for support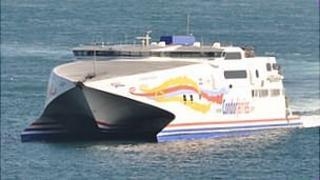 Condor Ferries cannot afford to replace its fast ferry fleet while operating its current year-round schedule, its chief executive has said.
It operates services between the Channel Islands and the UK and France.
James Fulford said "times were hard" with fuel costs having doubled and the company having to spend £10m on just servicing its three high speed vessels.
He said a purpose-built vessel would cost £70m and the firm has approached island governments for help.
Mr Fulford said this involved seeing "if there is a way that meets islanders needs but allows Condor or any ferry company to be able to invest in new vessels".
The company is the only one licensed to operate the route between the Channel Islands and the UK, with its licence valid until 2018.
The licence agreement includes delivering a minimum standard of service.
Mr Fulford said the company was simply not making enough money to pay for new vessels on its own.
He said the freight side of the business has been hit hard by the reduction of the fulfilment industry in the islands.
Many of the companies that have downsized or left the islands have blamed the move on the ending of a tax relief agreement between the UK and the islands in April 2012.