Panel agrees to Jersey States housing rents rise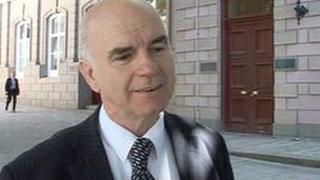 A panel of politicians has agreed to support plans to increase Jersey social housing rents.
The scrutiny panel reviewed plans to reform social housing which included raising rents to 90% of those in the private sector.
Deputy Kristina Moore, chair of the panel, said it supported the housing minister's overall aims, but was glad he had agreed to alter some proposals.
Deputy Green said he would hold further discussions with the scrutiny panel.
The review also said raising rents would affect the amount of income support paid out.
Deputy Green said: "The income support bill will go up, but the cost of supporting people in social housing will be where it belongs and not at the expense of maintenance.
"When I first became housing minister we had about £80m of outstanding maintenance and little investment in new homes, that is not right and that was because we were subsidising the rents by not doing the maintenance."
'Practically homeless'
The housing minister's 30-year housing transformation programme also included setting up a strategic housing unit, creating an independent regulator and establishing a States-owned housing company.
Deputy Moore said the panel was urging the housing department to build more new homes and carry on with its refurbishment plans.
She said: "There are now 150 people on the tier one waiting list, who are most in need of housing. They are practically homeless.
"We have in our parish [St Peter] one person who has been living on a floor for nine months and still has no hope of finding a home, so we need to see other measures put in place to deal with the short term as well as the long term 30-year plan."
A Jersey man who lived in a tent for nearly three years before moving into States' housing, said he was very grateful to have a permanent home.
Remi Couriard said: "For the first few weeks when I came home every evening I thought somebody was going to take it away from me.
"It was an incredible situation to have something solid as a foundation after living on camp sites."
Deputy Andrew Green will take his plans to the States for debate on 14 May.