Jersey minister hopes abuse will end with discrimination law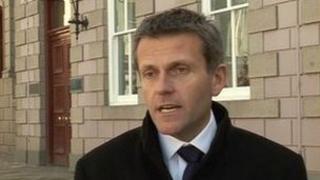 No-one in Jersey should have to put up with abuse once discrimination laws come into force, according to the island's treasury minister.
Senator Philip Ozouf, who is gay, spoke out after a homophobic message was left on his answer phone.
Jersey has no discrimination laws but the States plan to introduce them.
The States are debating the first part of the discrimination law this week. Other areas including gender will be debated later.
Members voted 46 votes in favour to two against the principle of adopting the discrimination law. They are now debating the specifics.
St John Constable Phil Rondel and St Clement Deputy Gerard Baudains voted against it.
Senator Ozouf told the States he did not often speak on behalf of the gay, lesbian and transgender communities - but added that "discrimination did exist in Jersey".
'Ducks back'
He said: "It was brought into sharp focus for me only last week when an uninteresting, uninformed and hurtful message was left on my answer machine.
"Of the person who left that message, which was a blatant homophobic message to me, I have to say it was water off a duck's back.
"But I have to say no other person in Jersey should ever have to listen to that sort of attack and there should be protection on the statute books.
"I welcome the day when we put in a whole suit of discrimination laws so that no person is discriminated whatever the cover of the book they appear to have."
Social Security Minister, Senator Francis Le Gresley, said the new law would prohibit any type of race discrimination including in work, recruitment, education and clubs.
He said that sex, age and disability discrimination would be outlawed in the future.
Senator Le Gresley said sex discrimination would be the second area the law will focus on, following the introduction of racial discrimination laws.
A 2012 social survey showed 25% of respondents felt they had been discriminated against in some form in the past year.
Nearly 2,500 households responded to the survey in June.