Jersey low-income tenants struggling to pay rent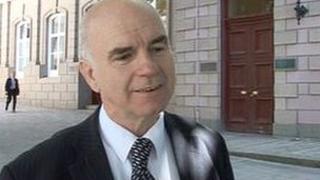 More than half of people on low incomes in Jersey are finding it difficult to pay their rent, according to a government housing report.
The e States Statistics Unit found they were paying more than 30% of their gross income in rent, its official definition of "housing stress".
Low earning in Jersey is anything below the average salary of £34,000.
Housing minister Deputy Andrew Green said more needed to be done to lower the price of rental property.
The average rent for a three-bedroom house in 2012 was £1,740 per month.
'Housing stress'
Mr Green said: "The best thing we can do to lower the price of rental property, or at least prevent them from going up further, is to increase supply."
The 2012 Jersey Housing Affordability Index looked at the ability of people on low incomes, first-time buyers and key workers, such as teachers and nurses, to house themselves affordably.
It revealed about a third of low earners who owned their homes, and those in States housing, could be considered as being in "housing stress".
Mr Green told BBC News: "Housing stress is around the money people have to pay their rent when you take all their income in, it is the proportion they spend on rent or a mortgage and what they have left."
Social Security Minister Senator Francis Le Gresley announced plans earlier to provide more support for people struggling to pay private rent.