Jersey States and Chamber of Commerce 'should work more closely'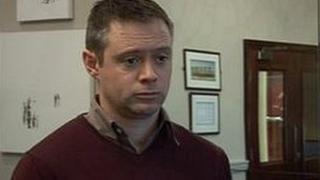 Jersey's government and Chamber of Commerce need to work more closely together to help businesses on the island, says the new chamber president.
James Filleul took over the role from David Warr this week.
He said the chamber members would be meeting over the next few weeks to decide their priorities.
Mr Filleul said a united approach from businesses and the government would help give the economy the confidence it needed.
He said there were a number of issues the business group had long-term ambitions for.
"I think there is work to be done in promoting a commerce friendly culture in Jersey, that's making sure business and commerce generally is seen as the solution rather than the problem and we can add to the overall prosperity of the island," he said.
"We get a lot of feedback that retailers are really suffering at the moment, hanging on by edges of their fingertips, and I think technology is a big part of the answer to the problems they are facing."