Jersey to Manchester flights dropped by Blue Islands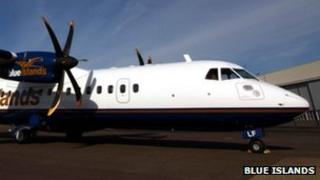 The airline Blue Islands says it is scrapping its Jersey to Manchester service.
The company said there were already flights to Manchester by Flybe and to Liverpool by Easyjet.
The last Blue Islands flight to Manchester will be on Monday 10 June, the airline said.
Blue Islands said the aircraft used on the Manchester route would be redeployed to the regular shuttle service linking Jersey and Guernsey.
The firm began flying to Manchester in 2011 after BMI Baby pulled out of Manchester Airport.
Rob Veron, managing director of Blue Islands, said the links between Jersey and Guernsey were vital and the change allowed the airline to use a larger 46-seat aircraft between the islands.
He said: "By dedicating our aircraft on the inter-island route, we are able to offer a premium experience using only the ATR aircraft that is 100% committed to just fly between the islands."
Passengers for Manchester have been rebooked on to Flybe services or given a refund.