Superman Henry Cavill on set of Jersey stamps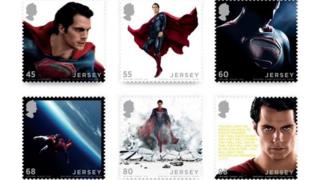 Henry Cavill, who is to don Superman's red cape in the upcoming Hollywood Blockbuster, is to be recognised on a set of stamps in Jersey.
The 30-year-old actor, who is from the Channel Island, stars in Man of Steel, alongside Russell Crowe and Amy Adams.
A spokeswoman said it was the first time Jersey Post had issued stamps for a Hollywood film
She said the project had taken two years after approval from Henry Cavill's team and Warner Brothers.
The stamps received Royal approval this month.
His father Colin Cavill said: "Henry is very proud of his island roots and has been involved in the development of the stamps throughout."
Gary Caroll, business development director at Jersey Post said: "We hope that islanders will want to buy these products, not just for their collectible value, but also because they reflect another proud moment in Jersey's cultural heritage.
"Henry Cavill is not only a superhero, he is our local hero and we are delighted to mark his achievement in this way."
Each of the six stamps pay tribute to Superman's powers, including a transparent and a glow in the dark stamp.
Cavill will also be at a special screening of Man of Steel at Cineworld in Jersey on 14 June.