Jersey bus operator calls for change of legal status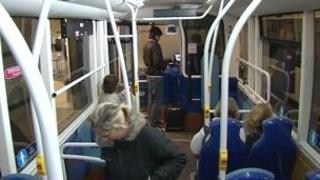 Jersey's bus operator claims the service needs to be classed as an "essential service" to protect the travelling public.
A LibertyBus spokesman said it wanted to secure an agreement with Unite, which represents drivers.
If the change went ahead industrial action would have to be announced 20 days in advance, rather than the current seven.
A spokesman said this would give people more time to make alternative plans.
He said: "Public transport in Jersey is crucial to both the economic life of the island and to the economic well-being of many people.
"It ensures that people can get to work, that their children can get to school and that staff in other essential services can reach work as well... [it] is also crucial to the well-being of older people."
The spokesman said the company also felt it needed the protection afforded by classification as an essential service following comments allegedly made during recent negotiations with Unite.
Nick Corbel, from Unite, acknowledged there were "heated discussions around the table" and the idea of the bus service being an essential service was discussed.
"It is a difficult time for CT Plus staff and angry words were expressed," he added.