Condor captain and first officer on manslaughter charge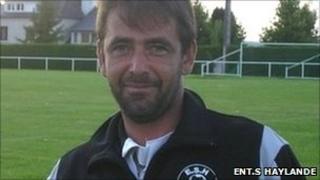 A French captain and a first officer of the Condor Vitesse have been charged with manslaughter following a fatal collision in Jersey waters in 2011.
Paul Le Romancer, 58, from Strasbourg, who was in command of the ferry and 48-year-old Yves Tournon from Argenteuil, are due to go on trial on 26 June.
The ferry collided, during thick fog, with the Granville fishing boat Les Marquises on 28 March, 2011.
Its owner, 42-year-old fisherman Philippe Lesaulnier, died instantly.
The trial will be held in Coutances in Normandy, where Mr Le Romancer and Mr Tournon will also be charged with the unintentional wounding of two other fishermen on the boat and failing to respect marine regulations designed to prevent collisions at sea.
The collision occurred off the Minquiers reef, east of Jersey.
'Ignored radar blip'
In a statement released earlier, Coutances prosecutor Renaud Gaudeul formally accused the two men of causing the death of Mr Lesaulnier, who was at the helm of Les Marquises "by blunder, inattention and negligence".
The prosecutor alleged that the two men failed to sound the Condor's foghorn to warn vessels of their approach, failed to maintain visual watch at the time of the accident and failed to maintain sufficient radar watch.
He also alleged that they switched off the ferry's anti-collision warning system, failed to alert crew members on the bridge to safety obligations in view of adverse weather conditions and engaged in conversation which had no connection with the safety of their vessel.
A formal French marine accident investigation report, issued in 2011, found that examination of the Condor Vitesse's black box data recorder showed the captain of the Condor Vitesse and crew were chatting about a TV film featuring Catwoman.
The report alleged the officers and crew on the bridge failed to notice a blip on the Condor's radar screen which would have alerted them to the presence of the fishing boat in their path as they approached it.
Ferry company Condor Ltd and Condor Marine Crewing Services Ltd, whose addresses are given on the French charge sheet as the White Rock at St Peter port Guernsey, have also been warned to appear to answer charges of civil responsibility for the accident.