Jersey's Fort Regent roof to be listed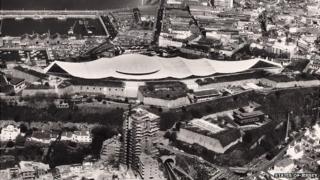 The roof of Fort Regent, Jersey's main leisure centre and former military fortress, is to be protected.
The fort building, built in the early 19th Century to protect against invasion from Napoleonic France, is already a listed building.
The waved roof structure was built in 1974 over the fort's parade area to enclose it for public use.
Planning Minister, Deputy Rob Duhamel, said it was being listed due to its architectural and scientific interest.
He said it was "a modern architectural structure" that islanders and visitors would known well but was "perhaps taken somewhat for granted".
Deputy Duhamel said: "It is a key feature of the St Helier skyline and it was an ambitious and ingenious solution to the challenge of covering the parade ground when it was developed."
The decision to develop the fort for public use was made in 1967, with a cable car and swimming pool created before the roof was built to create the sporting centre and venue for events.
Discussions about the best use of site, which covers 22 acres (89,000 sqm), and how it should be developed continue to this day.
When the roof was built it was the largest of its type in western Europe. It was described as a major technological feat and was one of three buildings featured on a series of stamps issued in 1987 on the theme of modern architecture.
An English Heritage specialist listing inspector described it as an "extraordinary structure… of national importance, it would qualify for listing on the mainland" in a report for the Environment Department in 2000.