Jersey National Trust criticises supermarket plans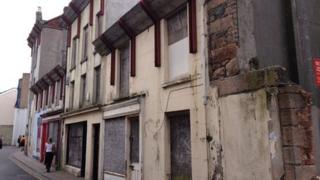 Revised plans by a supermarket to restore two listed buildings do not go far enough according to the National Trust for Jersey.
Channel Islands Co-operative Society wants to restore two of six listed buildings at Charing Cross, demolishing the rest.
The previous plans would have seen all six buildings removed.
Charles Alluto from the trust said there needed to be an exceptional reason to demolish historic buildings.
The National Trust has come up with alternative proposals that would see all six buildings restored, the current supermarket demolished and replaced with a three-storey building.
Mr Alluto said: "We are not saying no to change but what we are saying is you can have a heritage led regeneration scheme that combines change and safeguards historic buildings."
Colin Macleod, chief executive of the Channel Islands Co-operative Society, said he had to balance the cost of the plans. He said the firm had 4,500 responses to a survey on their plans and 3,780 were in favour.
Mr Alluto said the island plan, a document setting out planning guidelines, had a presumption that historic buildings would be preserved.
"The Co-op has to show there are exceptional reasons for removing these buildings and we haven't seen anything on paper to demonstrate there is any reason for those historical buildings to be removed," he said.
The States of Jersey are due to debate a proposition calling for these buildings to be protected from demolition on 16 July.