Jersey's new planning guidelines 'change nothing'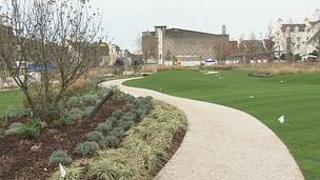 New planning guidelines for the Bath Street area of St Helier change nothing, says the development company that owns large parts of the area.
The States' planning department has been working on the issues for 12 months after developers Le Masurier, scrapped a £75m development.
At the time the company said it had lost confidence in planning.
Now Ben Ludlam, from Le Masurier, has said nothing had changed and they would not be revisiting the development.
He said: "Our decision is the same as it was in December last year, the planning guidance is uncertain and we can't take things forward at this time."
Planning Minister, Deputy Rob Duhamel, said the update provides a flexible and realistic framework that he hoped would lead to the area being regenerated.
The guidelines drop a previous requirement for commuter parking, asking instead for a financial contribution to parking elsewhere.
Over the past year, the planning department has worked with landowners Le Masurier, to develop the guidance. The company owns a significant amount of land in Bath Street.
It also places a requirement on any developer to provide affordable housing and preserve two main listed buildings.
Mr Ludlam said: "We might look at it again in a few years time, but we spent a year with planning and we could not get to an agreed state after that 12 months and we are not willing to invest further investment in professional fees and time to do that."