Jersey Post delivers 70-year-old German Christmas cards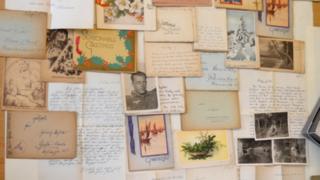 A second batch of letters written by German soldiers based in Jersey during World War Two have been delivered to their relatives.
The letters and Christmas cards were stolen from an army post office in St Helier by teenagers rebelling during the occupation in 1941.
They were handed in to the Jersey Archive by an elderly man who felt guilty they had never been delivered.
The first batch were reunited with the soldiers' relatives for Christmas 2012.
Linda Rommeril from Jersey Archive said the second batch had now been sent back to Germany after a lot of research to find their rightful owners.
She said: "Jersey Post have been working with their equivalents in Germany trying to find more of the families and we are pleased to say a second batch of letters were collected in May and will now be re-united."
There were originally 90 pieces of mail stolen from the German army's field post office in Beresford Street in St Helier.
They were hidden for 66 years before they were brought to the Jersey Archive by a man who wanted to remain anonymous.
Ms Rommeril said there were still more letters to deliver and Jersey Post was working hard to identify the relatives.