Jersey nurses accept pay offer from government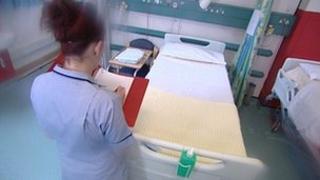 Jersey nurses have accepted a pay offer by the island's government after previously threatening strike action.
A ballot by the Royal College of Nurses saw 83% of members who returned a vote agreeing to take the deal.
They have accepted 1% for 2012, 4% in 2013 and 4% in 2014.
The pay rise for 2014 is based on changes to working methods. A union spokesman said staff want to focus on how these proposed changes will affect staff and patients.
'Strong workforce'
Kenny McNeil from the Royal College of Nursing said the States has to concentrate on recruiting and retaining staff long term to make sure people in Jersey get the best quality healthcare.
He said: "It is not just about recruiting, we need to keep people here. We have a strong workforce who understand and know the island but have felt demoralised.
"There has been inequality in pay for a long time and we will now be looking to address that in the next phase."
Chief Minister, Senator Ian Gorst, said he was pleased nurses and midwives had accepted the offer.
He said: "They have now joined the police, prison and fire services who have all reached amicable settlements, the latter two of which included redesigned pay structures.
"This award means we can continue the work that has begun to tackle differences in pay between different health pay groups."
Teachers from the National Union of Teachers and the National Association of Schoolmasters/Union of Women Teachers voted for strike action in June.
In February about 300 people marched through St Helier over an earlier pay offer. That offer was a 3% rise in 2013 and a 4% increase in 2014.