Jersey post boxes to be surveyed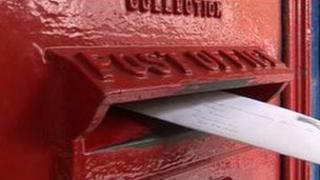 More than 180 post boxes in Jersey are to be surveyed to find out which have significant heritage value.
It follows a decision by Jersey Post to decommission a number of the less well-used post boxes as part of a review of its services.
The survey of post boxes will be carried out by an expert from the British Postal Museum and Archive, together with Jersey Post.
The first pillar boxes were built in St Helier in 1852.
A report on their significance will be produced in October, along with an assessment of which post boxes have most heritage value and should be recommended for listing by the Minister for Planning and Environment.
Once significant post boxes are listed, any decision to move or change them would need the permission of the Minister.
In July Jersey Post announced the closure of 51 of its 178 post boxes due to their lack of use.
The boxes currently identified for closure by Jersey Post will be sealed up, but none will be removed until work to understand their historic significance is complete.
Andy Jehan, the director of postal operations at Jersey Post, said: "We are aware of the historical significance of many of our boxes and this collaboration ensures that any plans respectfully take their importance and the relevant stakeholders' views into account."