Replacing Channel Islands Air Search 'may cost £3m'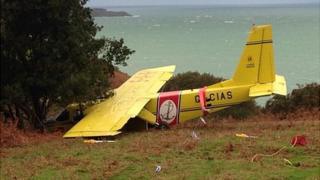 A replacement for the damaged Channel Islands Air Search plane could cost "a little short of £3m".
The Islander type plane was called out on Sunday to help find two missing fishermen when it suffered engine problems and crash-landed in Jersey.
Roger Dadd, founder of the search and rescue charity, said it was a tough aircraft and the nose, wings and undercarriage damage may be repairable.
He said buying a new or used Islander to replace it would be expensive.
Mr Dadd, who was a pilot with the charity for 28 years, said "a replacement aircraft would be considerably more expensive than the one that's just been damaged".
He said the 30-year-old plane, called Lion's Pride, was in "very good condition" after being "so well looked after".
"We're all very fond of the airplane and if she can be brought back into service that will be our first choice," he said.
"[If it has to be replaced] it's got to be another Islander. If we went to a new airplane it would future-proof the service for the next 35 years.
"The alternative is to go for a used airplane, but the difficulty we have is that the Lion's Pride hasn't actually done a lot of work, she's like a fire engine she sits there ready to go.
"In order to get an airplane with an equivalent amount of flying hours and work on it, we're talking about 3,000 hours of use, we would have to buy a much newer airplane and that would be expensive."
Asked if the charity would consider using a helicopter instead, Mr Dadd said volunteer pilots could not staff it and it would be very expensive to maintain.
He said it was important the Channel Islands provided the service, which along with the RNLI lifeboats, "fight its corner" alongside the French and English rescue services.
As to where the money would come from he said he "wouldn't see it as government funding".
Mr Dadd said: "Both airports give us totally free landings, Guernsey Airport gave us the land on which our hangar is built, which is quite valuable, and Jersey make a small cash donation each year which is equivalent to Guernsey's contribution.
"In a funny way it's a reversal of roles because for 33 years Air Search has sat there ready to respond, as it did on Sunday night, when Channel Islanders are in difficulty and now the boot's on the other foot and it's Air Search that's in difficulty and we're looking to the Channel Islanders."