Helicopter lands in Jersey for medical emergency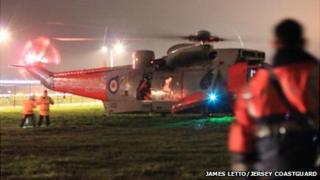 A critically ill baby was taken from Jersey to Southampton Hospital by a Royal Navy helicopter after heavy fog closed the island's airport on Monday.
The helicopter landed at Millbrook playing field at 23:00 GMT because it could not land at Jersey Airport.
Earlier, a flight carrying a medical team and supplies was diverted to Guernsey because of the fog.
The team and drugs were taken to Jersey by Guernsey's marine ambulance in force five winds and choppy seas.
The Sea King helicopter landed on a football pitch in Millbrook to pick up the baby boy, who needed emergency care in the UK.
Jersey's health department put out a call to the Royal Navy as the only option left for getting off the island.
In Jersey, States of Jersey police, the honorary police, the fire and ambulance service and the coastguard were all involved in the operation.
St Lawrence Centenier Steven Coleman was part of the team that closed the roads for the helicopter and said it was a first for the island.
"I do believe it is one of the first times the UK has had to call on the assistance of the navy with one of their helicopters because of the flying conditions," he said.
"All civilian air was closed down because of the extreme conditions and it required the expertise of the Royal Navy and their crew to get out and go."
The UK team which arrived by lifeboat with drugs for the baby were taken by ambulance to Jersey's hospital.
The baby is said to be in a stable condition.