Jersey States members vote to accept £600 pay rise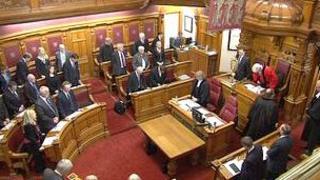 Members of the States of Jersey have voted to accept a pay rise of £600 from 1 January.
The increase, which will take their annual salary from £42,000 to £42,600, represents an increase of 1.3%.
Phil Rondel, the Connétable of St. John, had proposed to suspend a parliamentary rule preventing members from discussing their own pay.
He wanted a pay freeze for 2014 but his was the only vote in favour, while 43 voted against.
States members are also able to claim up to £4,000 in expenses.
Below inflation
An independent pay review body was set up in 2004, after States members decided it was inappropriate for them to discuss their own remuneration.
In a response to Connétable Rondel's proposal, the Privileges and Procedures Committee (PPC) had said it was "not aware of any circumstances that would warrant setting aside the recommendations of the review body".
In the decade between 1 January 2004 and the beginning of 2014, combined pay and expense allowances will have risen from £39,624 to £46,000 - a rise of 16.1%.
Had pay increases risen in line with Jersey's inflation rate, States members would be able to claim up to £53,606 from next year - an increase of 35.3%.
"Any member who wishes to receive less than the total needs only to notify the States Treasury of the reduced amount that they wish to receive," the PPC said.