Woman in abuse inquiry 'insulted and damaged' by bishop's comments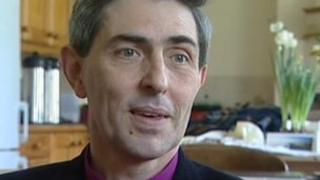 The woman at the centre of church abuse allegations in Jersey has said she is "insulted and damaged" by a statement from the Bishop of Winchester.
The Right Reverend Tim Dakin said that no disciplinary action will be taken against any Jersey clergy over the handling of the complaint.
The woman said she had sought legal advice to prevent the bishop from causing her further distress.
Jersey's Dean said he was "relieved and thankful" that no action will be taken.
The Very Reverend Bob Key was suspended for two months in March for allegedly failing to properly investigate the treatment of the 26-year-old woman, who claims she was abused by a church warden.
The original complaint was made in 2008. Police investigated the allegations but found insufficient evidence.
In March this year, Bishop Dakin commissioned an investigation.
'Absolved the wrongdoers'
On Friday, he said the investigation conducted by former High Court Judge Dame Heather Steel is nearing completion and that based on Dame Heather's findings to date, he will not be taking disciplinary action.
Following the announcement, the woman, known as HG, told BBC Radio Jersey: "I would like to state that I am insulted and damaged by the bishop's statement.
"I do not understand how the bishop has the audacity to 'offer help', while he has absolved the wrongdoers and seriously harmed me.
"No help will ever undo the harm done to me by the Diocese of Winchester, the severity and effects of the harm will limit my life and harm me until I die."
Within his statement Bishop Dakin said he was "currently unable" to release the report into the matter for legal reasons.
He added that HG's rejection of help offered by the diocese was "entirely understandable, given how she sees her experience of the Church of England".
Giving his reaction to the news, Mr Key, who was appointed as Jersey's Dean in 2005, said: "I lead a fantastic team and for them to be exonerated means the world to me.
"I always feel impress sympathy for anyone who is feeling hurt or for whom help that has been offered has not delivered all that might in a perfect world be possible.
"I do pray that she will find peace and help and a way forward for her that for her will be the very best."
Bishop Dakin also commissioned a review into safeguarding policies being undertaken by Bishop John Gladwin, which is yet to be completed.
He said a pastoral visit by two bishops would be made by to the Channel Islands in December "so that a fresh perspective can be taken on safeguarding".