Trinity road hole repairs likely to take 'several days'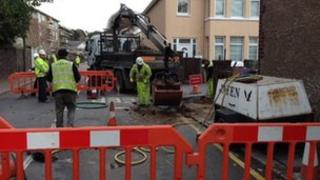 A hole that opened up in a major road in Jersey is five times larger than originally thought.
The hole in Trinity Road, St Helier, suddenly appeared on Friday following a burst water main.
It was discovered by Jersey Water staff and a States of Jersey engineer, and believed to measure about 4m (13ft) by 1m (3ft).
It has since been revealed the hole measures 20m (65ft) by 5m (16ft) and will take several days to repair.
Site inspections found the hole was also 2m deep and was just under the road surface across both carriageways.
Engineers will be conducting further investigations over the weekend.
A spokesman for Transport and Technical Services said they "will be doing their utmost to reopen the road as soon as possible".
"However the initial inspections indicate it is likely to be several days before repair work can be completed," he added.
The road has been closed in both directions and drivers have been diverted via Springfield while the work is carried out.