Channel Islands lottery jackpot passes 2012 total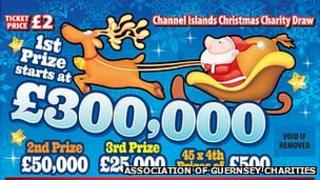 The jackpot in the 2013 Channel Islands Christmas Lottery has passed the 2012 total with three weeks to go until the draw.
The current top prize is £695,000 but is likely to rise since the total is based on the number of £2 tickets sold.
The final total will not be known until the draw happens on 19 December in Guernsey.
Organisers hope to beat the record first prize of £751,500, won in Jersey in 2011.
The proceeds of the lottery are split between Jersey and Guernsey charities based on the proportion of tickets sales, with the division usually about 60% for Jersey and 40% for Guernsey.
The annual lottery has been running since 1975 and money has been donated to charity since 1986.