Jersey's West Park Pool restoration plan gets funding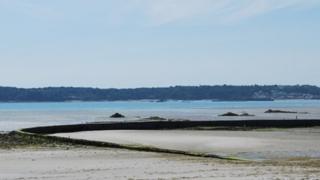 A 116-year-old seawater pool in St Helier will be restored thanks to government funding.
West Park pool was built in 1897 in honour of Queen Victoria, but has fallen into disrepair.
More than £300,000 from the Parish of St Helier, the States of Jersey and Jersey Tourism will give it a new lease of life.
The pool, originally called Victoria Marine Lake, will be run by Les Ormes activity centre charity.
Pierre Horsfall, who campaigned for the project, said: "Following the Olympic Games there was a need for some sort of legacy and sports facility and the thought of being able to teach people to sail in a safe environment started it off.
"Since then, it has developed into a facility that will be good for tourism, good for local people and a way of introducing disabled people to water sports."
The pool is thought to have been the largest of its kind in the British Isles when it was built.
It covers an area of 13 vergees (23,381 sq m) and can hold more than 6m gallons of water
Mr Horsfall said if all things went to plan the project would go out to tender by February and it should be completed by the start of the school holidays in July.