Jersey buys ploughs to prepare for possible snow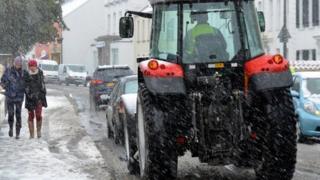 After heavy snow that brought Jersey to a standstill in 2013 the transport department said it has taken precautions for 2014.
Transport Minister Deputy Kevin Lewis told the States his department had purchased two extra snow ploughs.
Deputy Lewis said the department had also stocked up on grit.
In March hundreds of homes were left without electricity, roads closed across the island and schools shut for four days.
The March snow also saw more than 500 trees fall down across the island.
The snow measured 5.5 inches (14cm) at its peak but due to heavy winds up to 65mph there were drifts much deeper in some areas.