Jersey people warned to 'avoid the coast' as severe gales forecast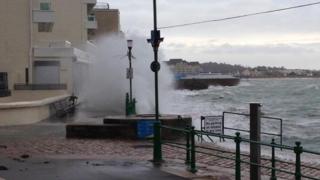 People in Jersey are being warned to stay away from the coast as the island experiences more flooding and gales.
The Met Office has issued the highest level flood and wind warning, saying coastal roads may be closed because of high tides and strong gusts.
It said the island had never before experienced this combination of weather conditions.
A transport officer said it would take three months and cost £200,000 to repair damaged sea defences.
Condor and Channel Islands Lines have cancelled sailings because of safety concerns.
John Searson, from the Jersey Met Office, said people should not leave their homes unless it was essential.
On Tuesday morning a man was taken to Jersey General Hospital after a large wave at Gorey Pier crashed into his car.
Two men were in the vehicle when stones carried by the wave crashed into the car, smashing the windscreen and hitting the driver in the eye.
The passenger is not believed to be seriously injured.
St Aubin suffered flooding and wind damage, as waves crashed over the pier and into the harbour, moving boats and trailers around.
People in the area reported the waves were as tall as a house.
Jersey Coastguard is warning boat owners to check their moorings, especially in southern and eastern areas.
Roads across the island were blocked overnight by falling scaffolding, signs and about 20 trees.
Police said they had been mostly cleared, but advised motorists to watch out for debris on the road.
Tidal flooding caused power cuts in 50 homes on Gorey Pier overnight.
A spokesman from the Transport Department said Gorey Harbour was probably the worst affected area, but all coast roads from there to the town were clear.
Transport minister, Deputy Kevin Lewis, said it was too early to count the cost of the destruction.
He said he had spent a lot of time over the past few days watching and helping the clean up operations and said it was not just sea walls, but personal property also needing clean up.
Deputy Lewis said: "At St Ouen some of the coping has come off the sea wall, railings have come down but it is personal damage that is most tragic.
"A lot of the beach concessions have been destroyed beyond all recognition along the south and east coast."