Jersey store says 'no need' for carrier bag regulation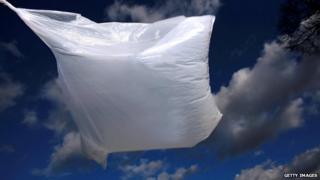 There is no need for regulation over the use of plastic carrier bags, according to the head of a Channel Island supermarket.
In 2008, supermarkets on the islands agreed to charge customers for plastic bags as part of a voluntary scheme.
The companies said they were giving out millions fewer plastic bags since the charge was introduced.
Tony O'Neill, chief executive of Sandpiper, said a law is not necessary when industries work together.
"I don't think we need a law for things like this. It is clear the population has bought into it and just by the evidence and behaviour of people in the island, they are happy to go along with it," he stated.
Sandpiper, which owns the Marks & Spencer franchise, the Iceland franchise and runs its own Checkers supermarkets, said it used to give out about 25 million bags per year, that has dropped to just over seven million.
The Channel Islands Co-Op said it used to give out 12.5 million, but that had dropped to just over one million bags per year.
A spokesman for the Co-operative Society said the money raised from selling the bags was put into an Eco Fund, which they used each year to support local environmental projects.
Sandpiper said they used the money to fund the training of a guide-dog.
They named the dog Piper and his owner, Jacqueline Richomme, said it would not have been possible to train him in Jersey without the money from plastic bags.