Northern Lights seen over Jersey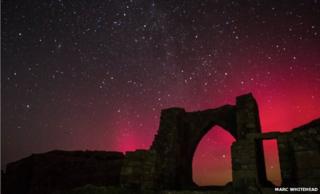 The Aurora Borealis - known as the Northern Lights - has made a rare appearance over Jersey, the most southerly part of the British Isles.
Jersey photographer Marc Whitehead was at Gronez in the North West of the island to try and capture the Milky Way when he spotted the red glow.
He originally thought it was light pollution from Guernsey.
Neil Mahrer from the Jersey Astronomy Society, said it was a once in 10 year occurrence.
The display is caused by electrically charged particles from the Sun entering the Earth's atmosphere and can usually only be seen much further north.
But there were sightings across much of the UK on Thursday night.
Mr Mahrer said: "Seeing them somewhere like Jersey depends on how much solar activity there is. We are near the peak of a 12 year cycle at the moment which is why it was visible here.
"It has been seen by very few people in Jersey. There are a few people in the astronomy club that have seen it here, but they spend a lot of time outdoors."
Mr Whitehead, who has only been a photographer since December, said he counted himself lucky to have seen the display.
He said: "When I realised it was amazing; I couldn't believe what I had seen. I was battling against the wind and rain to try and get a photo but it was worth it."