Channel Island regulator Andrew Riseley steps down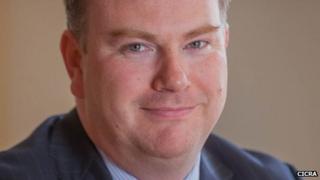 The head of the Channel Islands Competition and Regulatory Authorities (CICRA) is to step down after less than two years in charge.
Andrew Riseley said he was leaving Guernsey to move closer to friends and family in Australia and New Zealand.
He was appointed head of the regulator in June 2012 and will be replaced by current deputy Michael Byrne from 1 April.
Mr Byrne said his priority was to ensure islanders got value for money.
He said: "During this interim period my priority is to continue to ensure CICRA delivers on its aim of ensuring that consumers across the Channel Islands receive the best value, choice and access to high quality services."
CICRA chairman, Mark Boleat, said Mr Byrne was "ideally qualified" to take on the role.
He added: "In the nine years since he joined the team, Michael has built on his significant experience in regulation and competition policy."
Mr Boleat paid tribute to Mr Riseley's work at CICRA: "Andrew has done an excellent job in continuing the development of pan-Channel islands working and has undertaken a number of key projects during his time with CICRA."
Mr Riseley said after 10 years in the British Isles it was time to move back to Australia.
He said: "I am grateful to all of my colleagues for their efforts and support during my time as chief executive and I am confident that CICRA will continue to succeed under Michael's leadership."