Guernsey bus company proposes fewer buses after 'poor demand'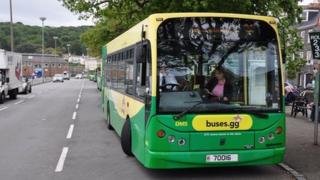 A number of late night and early morning buses could be cut under summer timetable plans from Guernsey's Environment Department.
The changes include a cut in early Saturday services on routes 21, 41, 42, 51, 61 and 71 due to poor demand.
Changes to the schedule are due to come into effect on 5 May.
A department spokesman said the around-island service would be improved, operating 17 services Monday to Saturday and nine on a Sunday.
Ian Timms, from Guernsey's Bus Users Group, welcomed the expansion of the around-island service.
He said he had been campaigning for years for it to be improved and said an hourly service was welcome.
The environment department spokesman said the overall network coverage would remain, but some routes would be reduced.
Routes 31, 51 and 81 will also finish earlier between Monday and Saturday due to poor demand.
The two-tier fare structure of £1 for local residents and £2 for visitors will remain.
Deputy Barry Brehaut, who is on the environment board, said he wanted the States to approve more money for the bus services.
He said it was something that should be considered when states members debate the transport strategy proposals in April.