Jersey International Finance Centre to be built after States reject delay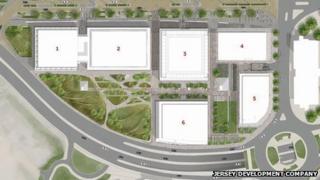 Work on a six-block office development in St Helier can begin after a call for greater States approval was rejected.
Senator Alan Breckon wanted the state-owned Jersey Development Company to share more information about the proposed Jersey International Finance Centre with the States.
Economic Development Minister Alan Maclean said the delay would put the £3m States investment at risk.
The first two blocks in the project are due to be completed in two years.
Senator Breckon argued that Jersey's situation had changed in the five years since members first voted in favour of the scheme.
"If we go ahead and it all works out well then it could be one of the best things we've ever done.
"However, we could be making a very serious mistake.
"I would like somebody to give me a better idea of making an informed decision than the information we have at the moment."
Fifteen members voted in favour of his proposed delay, with 31 voting against. Three members abstained from the vote.
Senator Maclean said the company had "spent to date £3m".
"That is taxpayers' money effectively spent getting permits, building control, construction drawings and all the rest of it to a point where we are ready to go.
"A delay at this stage is highly likely to put that investment at risk."