Jersey WW1 trench plans abandoned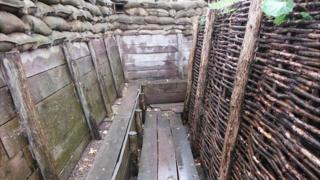 Plans to build a network of trenches on Jersey's waterfront have been abandoned due to concerns the soil may be contaminated.
The aim was to mark the 100 years on from the start of World War One by recreating the experience of life in the front line trenches.
However, no record could be found as to what had been used to fill the area of reclaimed land near Castle Quay.
Instead plans for a sculpture and a field of poppies will be pursued.
The flowers will be planted in soil brought in from elsewhere.
Parish authorities said they did not want to risk finding contaminated or other unsuitable soil.