Public defibrillator unveiled in Jersey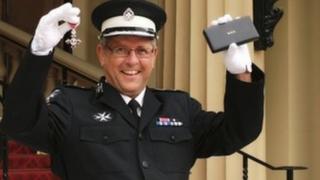 Jersey's first 24-hour a day public access heart defibrillator was unveiled on Wednesday.
The £2,000 device is a tribute to Nigel Truscott, former commander of St John Ambulance in Jersey, who died in 2013.
The charity plans to install 30 more machines across the island in conjunction with the ambulance service.
Defibrillators use electric currents to restart the heart and 169 are already accessible indoors in businesses, schools and parish halls.
Heart attack
Mike Judge, operations manager at the Jersey Ambulance Service, said the new defibrillator was located outdoors and could be activated by dialling 999.
"If somebody collapses they need treatment straight away," said Mr Judge.
"These sort of things can save lives when somebody has a heart attack."
Mr Truscott's son, Nigel, said: "My father was a member of St John Ambulance for 44 years and up until his illness worked at Morier House and it is therefore fitting that this cabinet and machine should be located there.
"He would have been delighted."