Jersey 150-year-old £1 note fetches £1,750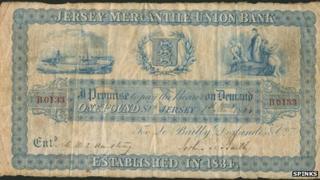 A 150-year-old Jersey £1 note has been sold at auction in London for £1,750.
Barnaby Faull, an auctioneer at Spink & Son, said the note was discovered in England but the buyer who won the sale was from Jersey.
The Jersey Mercantile Union Bank note is dated 1864, which would have been worth about one week's wages at the time it was printed.
Mr Faull said the relatively rare banknote was hand-signed by banker Joshua Le Bailly.
He said: "One pound in 1864 was a lot of money and they weren't left lying around, they were cashed in.
"For someone to put it in a drawer and forget it is like putting away a week's wages, so they don't turn up very often."