Petition against Jersey church site housing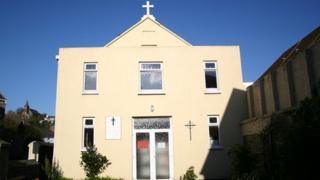 More than 100 Jersey residents have signed a petition against plans to demolish a disused church in Gorey Village and build homes on the site.
The East of Jersey Catholic Church wants to build two three-bedroom homes and car parking on the Main Road site.
Villagers are fighting the proposals, which they describe as "overbearing".
Architects James Naish said the plans would have "little effect on neighbours and will improve the area by removing an unsightly building".
The petition has been started by Pat Clarke, who runs the Rosedale Store in Gorey Village and lives next to the disused church.
Mrs Clarke said: "Villagers share my feelings. They say it's too big.
"The building would be higher than my property which will be overbearing. People are worried about the parking.
"The support I have had from other people, even outside the area, show they are totally against it."
Mrs Clarke said 10 people had also written to the Jersey planning department to complain about the proposal.
Monsignor Nicholas France, the leader of the island's Catholic Church, said: "Everybody has the right to take part in the petition.
"We'll continue with the application because I think it's probably the right thing to do."
The church was opened and dedicated to Our Lady of the Assumption in 1954.
It closed on 19 May 2013, coinciding with the retirement of Father Brian Sanderman.