Jersey referendum may be held on elected speaker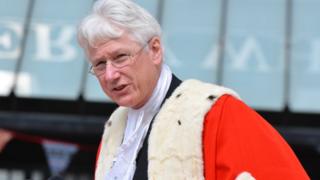 If politicians accept calls to replace Jersey's Bailiff with an elected speaker, it will have to be put to the public in a referendum in October.
Sir Michael Birt will retire from the role, as head of the parliament and judiciary, after the new States has been constituted in January 2015.
St Helier Constable Simon Crowcroft said that was a good time to split the judiciary and parliamentary role.
He said there should be an elected speaker of the States.
During a debate, States members voted in favour of an amendment by former Bailiff and current Senator Sir Philip Bailhache to have the question put to the public in a referendum.
They voted 32 in favour and 18 against.
Earlier in the debate, members voted in favour of making the referendum binding.
Whether a referendum will be held now depends on the outcome of a wider debate into the role of the Bailiff on Wednesday.
Senator Bailhache said: "The question of who is or who is to be the civic head of the island is a matter that should be put to the people of the island."
In his 2010 report the former High Court Judge Lord Carswell recommended the States should elect their own president from either within their own members or from outside the chamber instead.
The Bailiff is the civic head or first citizen of the island, and some people have suggested splitting the role could reduce its importance in the island.