Vehicle defect scheme started by Jersey Police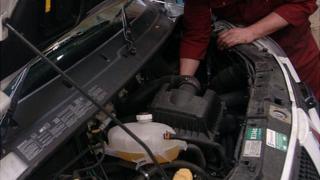 Drivers will be given a chance to rectify problems with their vehicles rather than be charged, under a Jersey Police scheme.
Officers will be able to give drivers seven days to fix "minor car defects" rather than charge them with offences.
If the defect is not fixed within the week both the vehicle owner and the driver could be charged.
Acting Insp Paul Smith said those with cars that were "clearly dangerous" would still be prosecuted.
'Words of advice'
He said this would also happen to drivers who were clearly aware of the fault, but had "chosen not to address it".
Mr Smith said: "This scheme gives officers the ability to warn people of defects and ensure they are fixed, rather than giving them words of advice and hoping they take notice, or alternatively charging them with an offence immediately.
"Defects which fall under this scheme are absolute offences, meaning the driver is guilty of the offence even if they are unaware of the fault."
He said the aim of the Vehicle Defect Rectification Scheme was to ensure defects were fixed for the safety of all road users.
The island has no MOT or similar testing for private vehicles with only buses, taxis and trucks tested annually.