Red-billed chough escapes Jersey's Durrell wildlife park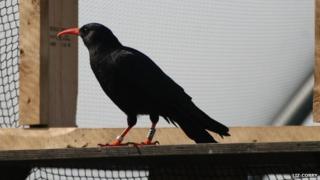 A rare bird has escaped from Durrell wildlife park and keepers are appealing for help in finding it.
The red-billed chough, a member of the crow family, is a small black bird with a bright red beak.
Named Arthur, it is a breeding male on the Birds on the Edge project, which aims to repopulate Jersey with rare native birds.
Keepers believe a rat may have chewed through netting in the bird's aviary.
Other choughs have been released on Jersey after training but Arthur has not been prepared for release.
'Report sightings'
Keepers do not believe they can catch Arthur, who has been spotted at Gorey Castle and at Les Platons.
They hope that by locating it they will be able to lure the bird closer to the rest of the chough population to maximise his chances of survival.
Rick Jones, of Durrell, said members of the public should register sightings on the Birds on the Edge website.
"We've been trying to encourage the public to report sightings anyway because we've been releasing them," he said.
"We'd really like to find out where Arthur has gone so we can try and influence him to join the other cohort so he can be with his own kind and have a chance of thriving."