Jersey cinema building has 'national significance'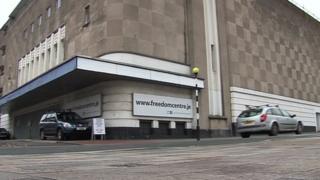 A former cinema building in St Helier could get special protection after being described as having "national significance" to Jersey and the UK.
The 1952 Odeon building was one of the earliest post war cinemas built in the British Isles.
It could have its status upgraded to a "Grade One" listing, the same as 800-year-old Mont Orgueil Castle.
Kevin Pilley from the planning department said the building was culturally significant.
"It is one of the earliest post-war cinemas in the UK," said Mr Pilley.
"The building standing in Bath Street is largely a complete example of a post-war cinema. It is important for its architectural features as well as its historical features.
"I think in Jersey it is also locally significant because we were coming out of the occupation and it was built very soon after the occupation, it is an example of recovery."
The way Jersey identifies and protects its historic character changed in 2011 and has been supported by a two-year survey of all 4,000 of the Island's potential listed buildings and places.
The current owners of the building, The Freedom Church, say they are working to turn the building into a community centre. They said they would not comment on the listed status.