Trust bids to buy Plemont site in Jersey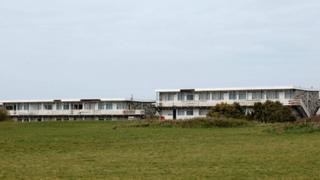 A 15-year campaign to return the former Pontins holiday camp at Plemont back to nature could achieve its goal if the States offers financial support.
The owners of the site have agreed to sell it to the National Trust for Jersey for £7.1m.
The trust said it had half the amount but wants the States of Jersey to foot the rest of the bill.
The States' Assembly will debate whether to make the one-off payment at a meeting in early July.
Celia Jeune, from the National Trust, said: "We are delighted that Plemont Estates Limited has agreed to sell this important coastal site to the National Trust for Jersey so that we may secure its future permanently.
"We sincerely hope that States Members will now be able to fully support our efforts to help restore a significant part of our coastline forever and for everyone."
Senator Sir Philip Bailhache said: "The old holiday camp at Plemont has been an eyesore on our coastline for far too long.
"I am sure that States members will want to support the huge efforts of the National Trust and seize the opportunity to restore the headland to its natural state for the benefit of Jersey people."
If the States agrees the financial request, it is hoped demolition works would commence in the autumn, with the whole site being cleared during 2015.