Jersey minister says rent control 'doesn't work'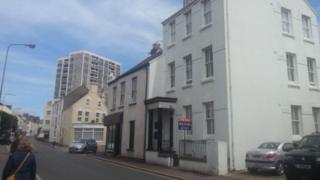 Jersey's housing minister says he has deep reservations over calls for rent controls.
Deputy Andrew Green was speaking during a housing debate on BBC Radio Jersey's Politics Hour on Sunday.
Rent controls form part of wide-ranging rented housing reform proposal passed by the States in May.
The proposition, lodged by Deputy Montfort Tadier, calls for minimum housing standards and a landlord registry.
Deputy Green said he had no problem with introducing housing standards but believes rent controls lead to higher prices.
"I've agreed to investigate it with an open mind and that's what I'm going to do," said Deputy Green.
"All of the evidence I've reviewed, and I've agreed to look at evidence from other countries, all the evidence I've reviewed is that rent control doesn't work and can drive prices up because it reduces supply.
"The best thing we can do in Jersey to influence the price of purchase and rental is to increase supply."
'Absolute disaster'
Deputy Tadier said rent controls were common in Germany.
"It may prove not viable but it may be that we can look at places like Germany which does have tight rental controls but a high level of private sector rental and it seems to work."
Robert Weston, president of the Lodging House Association, said rent controls would be "an absolute disaster".
"In the UK landlords provided 90% of housing long before there was social public housing.
"When rent controls came in that dropped down to barely 2% of accommodation being provided by private landlords.
"Rent controls will never work."