Entertainers hired for Jersey Airport queues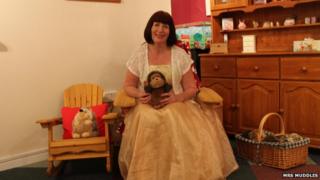 Increasing queues at Jersey Airport have prompted the management to hire children's entertainers.
Two weeks ago, more than 1,500 passengers passed through security in one and a half hours.
Managers said the school half-term holidays coincided with some routes experiencing increased capacity.
The airport has introduced a range of measures to shorten waiting times and have urged travellers to arrive in plenty of time.
Rosemarie Grimster, from the Ports of Jersey, said the queues were "good news overall" as they pointed to increasing visitor numbers.
Causing amusement
"We did have some significant queuing for our peak period," she said.
"We've put in new queuing regimes and have extra staff on hand.
"We've also had some fantastic guys bouncing around the terminal and causing amusement and greeting people as they come off the coaches."
Ms Grimster also issued a warning to passengers.
"We [passengers] do believe we can turn up at the airport half an hour before [flights] but that's not the case. We do ask passengers, especially on Saturdays, to leave adequate time."
BBC News has learned Mrs Muddles has been booked for Saturday 14 June.