Marivic Vautier cleared of Christmas knife attack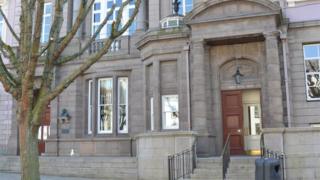 A woman has been cleared of stabbing her estranged husband with a kitchen knife on Christmas Eve.
At Jersey's Royal Court on Tuesday, Marivic Vautier, 34, denied grave and criminal assault and said her husband did it himself.
The Philippines national wept as she told the court her husband of 14 years said he would ruin her life if she left.
They had separated earlier in December after she left him for another man.
The court heard police were called to flats at Westley Court in St Saviour in the early evening of 24 December 2013.
Kitchen knife
They found Kevin Vautier lying in his hall with a kitchen knife still embedded in his chest.
He was taken to hospital but his injuries were not life-threatening.
Mrs Vautier no longer lived with her husband but had visited him that evening.
The prosecution allege that following an argument Mrs Vautier stabbed her husband then left the flat.
Mrs Vautier told police when she left there was no knife in his chest and he must have stabbed himself.
DNA tests of the knife proved inconclusive.