States of Jersey attendance records published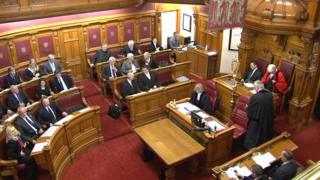 Voting records of Jersey's politicians have been collated by the deputy who claims to have the best record.
Jeremy Maçon, along with Gerard Baudains and Social Security Minister Francis Le Gresley each missed fewer than 3% of appel votes.
Deputies John Le Fondre, James Baker and Treasury Minister Philip Ozouf missed a quarter of 652 appel votes.
Votes are "appel" when they are controversial and merit the use of electronic voting.
Most of the missed votes were recorded after members had turned up, meaning they were in the building or had been at the start of debates.
General election
Senator Ozouf, who holds two ministerial positions, told BBC News he was one of the busiest members of the assembly.
Deputy Macon, who published the information and claims a perfect record, said voters should examine the figures ahead of October's general election.
"We've got elections looming in October but how can any of us be held to account if people don't know our voting records?
"If you didn't turn up to your job a quarter of the time how long do you think you'd keep that job?"
Deputy Le Fondre said the results could be skewed because missing one day could result in missing up to 15 votes or as little as one or two.
He also said he had been ill.
"It is very clear from the figures that the number of votes I am recorded as having missed in 2014 is more than all the other years combined, and indeed is treble the figures for 2012.
"I believe this is mainly due to the fact that during 2014 I have been struggling with a virus that has affected performance and my ability to be in the Assembly at all times."
Deputy Macon said members suffering long-term sickness or who were elected mid-way through the parliamentary term were not included in his figures.