Spat over Lord Faulks' Jersey visit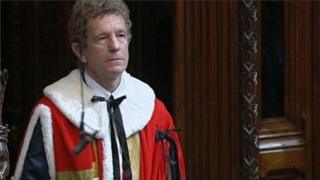 Members of Reform Jersey say they are being sidelined during a visit by Lord Edward Faulks to Jersey.
Lord Faulks, the UK Minister for Justice, oversees British relations with Crown Dependencies such as Jersey.
He is in the island to meet the Lieutenant Governor, the Bailiff and senior ministers.
A Ministry of Justice spokesman said Lord Faulks would meet a variety of island representatives during his visit to Jersey.
Deputy Sam Mezec, of Reform Jersey, said the first he heard of the visit was in a press release.
The States of Jersey press release said Lord Faulks will discuss Jersey's finance industry and a recent select committee report into the relationship between the UK and Crown Dependencies.
Formed this year, Reform Jersey is the island's only political party and has four members in the States Assembly.
'Raise concerns'
Deputy Mezec, one of the founding members, said the minister should also meet with opposition politicians.
"The Lieutenant-Governor, Bailiff and Chief Minister all have a self-interest in leaving the Justice Minister with the impression that they are doing a fantastic job, despite that not being the view of many Jersey residents and politicians," he said.
This is Lord Faulks' first visit to Jersey since assuming office in December 2013.
During a recent visit to nearby Sark, however, he told BBC News his role was "to make sure that anything that's on anybody's mind, they feel free to express themselves."
"Inevitably he will not be able to meet with every elected representative and discuss every issue," said the Ministry of Justice spokesman.
"However anyone with particular concerns who is unable to raise them during this visit is welcome to write to Lord Faulks who will consider the issue."
The States of Jersey has not responded to requests for comment.