World War Two 'hardened attitudes' to children in care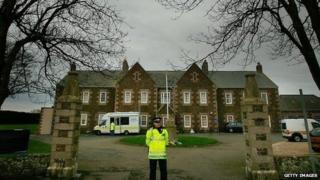 The experience of World War Two hardened attitudes to children in care in post-war Britain, the Independent Jersey Care Inquiry has heard.
Professor Roger Bullock, a care history expert, is giving evidence about how attitudes have changed since 1945.
He said most adults had military or boarding school experience so were less sympathetic to children in care homes.
The £6.5m inquiry is examining allegations of child abuse in Jersey's care system from 1945 to the present.
Professor Bullock discussed a pivotal government report in 1948 which recommended the abolition of corporal punishment in care homes.
'Abolished by Major'
Corporal punishment was finally outlawed in 1990, although Professor Bullock said attitudes had changed so drastically by then that the ban went almost un-noticed.
"It was abolished by [former UK prime minister] John Major, of all people, who had a personal thing about it, I think because he had been beaten at school," said Professor Bullock.
"In the 1960s a good hiding was the norm for most children," he said. "But from the 1980s it wasn't the done thing to give children a good hiding."
The academic visited 20 schools for his own research in 1975 and said he had only found one example of an establishment where corporal punishment was still in use.
He also said he did not think there was "an ethos of sexual abuse" in the system but "odd individuals" could find positions of power without adequate oversight.
The inquiry continues.