Petanque's popularity outshines lawn bowls in Jersey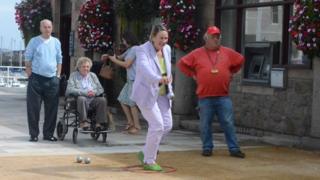 In a proudly British community 85 miles from the English coast, a distinctly French pastime is thriving.
Amid picturesque Anglican churches and rustic country pubs, the island of Jersey opened its 18th pétanque "terrain" on Friday.
The game is played widely in Jersey, where the English game of lawn bowls is also popular, but declining.
Originally part of the Kingdom of Normandy, Jersey ceded in 1204 but swears allegiance to the British Crown.
The island's history means most street names and many surnames are French, while daily life is quite British.
Apart from pétanque.
Despite Jersey's line-of-sight proximity to France and centuries of French influence, pétanque arrived in the island less than 30 years ago, and has grown fast.
Mark Le Riche, of the Jersey Pétanque Club, started playing two years ago and wishes he had discovered the game years earlier.
"There's about 3,000 to 4,000 players on the island," he said.
"Over the last year or so about 600 people have taken it up.
"It's very friendly and very French. I've got a French name but I like to think I'm a Jersey man."
With its gravelly municipal "terrains" and informal feel, pétanque offers recreational égalité in an island where club-based bowls, which is also popular, represents a more manicured, and certainly more British way of passing the time.
On sunny afternoons in St Helier, finance workers and shop staff mingle in Liberation Square for lunchtime leagues.
Mr Le Riche does not play bowls, finding it "a bit snooty".
Fred Paisnal, a veteran player, say pétanque's simplicity and low cost are behind its popularity.
"It's taken off, of late," he said.
"A lot of younger people are brought into the sport by the lunch-time league on the Weighbridge.
"About 200 play there. They come out of the office for 45 minutes, play a game, then go back to their screens.
"You don't have to wear a uniform, you don't have greens to upkeep. It's a cheap game."
---
Boules, bowls and death threats
Rolling small balls at targets for recreation is thought to have been introduced to northern Europe by the Romans
In France, these games became boules and in England, bowls
Pétanque, a version of boules, was formalised in 1907 near Marseilles
Players roll the ball from a standing position in a shorter playing area, or terrain, than in other variants of the game
Pétanque's governing body, the FIPJP, claims 600,000 members in 94 countries
At the world championship in June, one team pulled out, citing death threats from rival teams
---
Tony Moreton, former captain of the Sun Bowls Club, plays both bowls and pétanque.
"If the two clash, bowls comes first, but I do both," he said.
"I took up pétanque about seven years ago because I don't like playing bowls indoors."
Mr Moreton believes there are up to 800 bowls players in Jersey but says numbers have declined.
"The main attraction with pétanque is you can wear what you like," he said.
"In bowls it's quite regimented, but it's getting better.
"This weekend we've got the Bowls Jersey National Finals and our club, which has changed its uniform to black trousers or shorts, has been informed we can wear our club shirts up top but have to wear white from the waist down.
"The numbers are way down. People die and you don't have so many youngsters coming through."