Jersey fishermen could get pay out after winter storms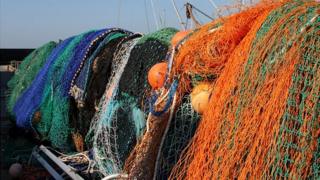 More government money could be going to fishermen in Jersey as part of moves to limit the damage caused to the industry by the winter's storms.
In April, the Economic Development Department announced it would help fishermen cover some of their costs.
It funded harbour and mooring fees for the rest of 2014 and membership fees for the Jersey Fishermen's Association and the Marine Conservation Council.
Now the island's treasury is being asked to help pay for repairs.
During the storms some boats could not leave harbour for weeks due to the consistently high winds.
Up to half of the equipment used by the industry was lost or damaged by the storms.
Senator Alan Maclean, Minister for Economic Development, has asked the treasury for £176,700.
If approved it will be used to repair and replace fishing pots that were lost or damaged during the storms and to help pay Marine Stewardship Council accreditation costs.