Jersey Air Display may move to weekend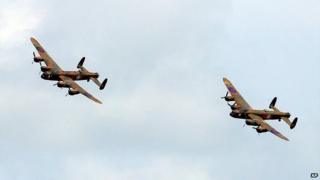 The Jersey International Air Display could change dates in the future in a bid to attract a wider range of aircraft.
Event organiser Mike Higgins said holding the event on the second Thursday in September was limiting.
Mr Higgins said it would still be on as normal in 2015 as work organising it had already started.
The free display usually attracts thousands of spectators and enthusiasts from around the world.
Mr Higgins said: "We are finding it difficult to get some RAF aeroplanes to come midweek.
"For example we haven't had the Typhoon for probably five years because the air force are using it for training during the week and don't want to release it for a midweek show."
Mr Higgins said he would be asking islanders for their views on whether the date should be changed before making any decisions.
He said there were some obvious downsides to moving towards a weekend display.
"If we go to a weekend then we are competing for assets, would we get the Red Arrows? Would we get the Battle of Britain memorial flight? Other displays are competing at weekends as well," he said.
The Jersey International Air Display is organised on behalf of the Royal Air Force Association in Jersey as part of Battle of Britain Week.
The 2014 display, to be held on Thursday 11 September, will see the only two airworthy Lancaster Bombers fly over St Aubin's Bay in Jersey.